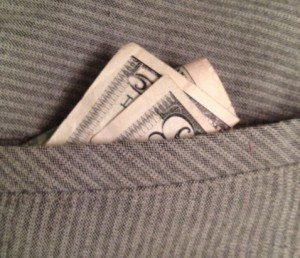 Living in New England, I have to admit I love the fall. Crisp night air gives way to bright sunny days, with more brilliant colors on the trees with each passing day. The subtle change in the temperature each evening is cause for sweatshirts, jeans, sweaters, and jackets. There's just something cozy about slipping on your favorite sweatshirt that you haven't seen for months to keep you warm. And, sometimes the change in seasons brings unexpected blessings.
Maybe you've experienced the joy of reaching into a pocket of a pair of pants or a jacket that have been tucked away for months only to be surprised and pull out money! It happened to me just this morning – I reached into a pair of pants that I hadn't worn for a while and found $10! I welcomed my mini-windfall! "What a great way to start the day." I thought.
I love when that happens!
Sure, I could have disappointingly wished I had found $20, $50, or more, but I was truly grateful for the $10 I did find. A twinge struck my heart as I thought that. How often in life do we miss the unexpected blessings because we're hoping for a different one?
God blesses us each and every day in so many different ways, some times in big ways, other times in little subtle ways.  Maybe He's looking to remind you that He loves you with an extra special sunrise or sunset painted just a little bit more brilliantly across the sky, perhaps a butterfly lands on you car's windshield as you sit at a traffic light, maybe a stranger will pay for your coffee, or you'll find money in a pocket.  He reminds us each and every day that He is here with us, and that He loves us. Will you notice His reminder in your life today?
Look for Him in your day today and thank Him for however He shows up. Could I have wished my $10 was a winning lottery ticket? Sure! But if my focus was on what it wasn't,  I would have missed the blessing that it was.
Today, find one unexpected blessing to celebrate.  Be sure to share what it is – let others know how God blesses you. It will help them to recognize His fingerprints in their own lives.
…His compassions never fail. They are new every morning; great is your faithfulness. Lamentations 3:22-23