I laid back on the blanket and focused my eyes on the star-filled sky above.
"There! Did you see that?" my Mom exclaimed pointing above us to the left. My eyes re-focused, now on that patch of the night sky.
"There's another one!" My sister squealed pointing in an entirely different direction. Nope, I thought. I didn't see either one or, the next half dozen they tried to point out.
I laid there quietly, my eyes still fixed on the vast expanse above us. I so desperately wanted to see what they had. But then, after feeling left out, shooting star after shooting star, it happened.
A magnificent brilliant light darted across the summer sky right in front of me, "there goes one!" I shrieked, claiming victory. I saw my first shooting star.
As I remembered that sweet moment from my childhood, I thought of the expectation, the excitement, and the sense of wonder it left us with. It's a life experience that seems to beg to be shared.
This past week, I had a shooting star experience. It was fleeting brilliance that left me in wonder, impacted, and changed. It was the type of "moment" that I can't help but share.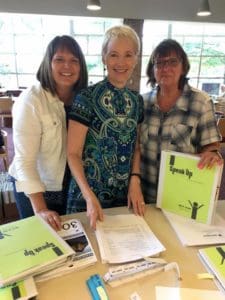 Where did this happen you ask? At Carol Kent's Speak Up Conference in Grand Rapids. It's an amazing, equipping conference for speakers and writers that has been one of the highlights of my summer for the past five years.
If you were at Speak Up or not, I think you'll appreciate my favorite takeaways:
Failure is a powerful teacher. What do you do when you wake up in a rain-soaked tent, frazzled, only to then miscalculate the time difference between two states? You show up for your video critique only to deliver your message with such speed that professional auctioneers would shrink with envy. But, if you're a professional communicator, you'd want to pack your bags and call it quits. That could have been Bruce Martin's fate last year. While he may have wanted to forget last year's fiasco, this year he boldly shared it from the main platform. "Sometimes failures create some unexpected opportunities," Bruce shared. His presence on stage, a testimony to his quote after last year's debacle. What failure do you want to run from, or forget? Is there a lesson or opportunity tucked in it that you'd not otherwise receive? Failure can be an incredible stepping stone! Embrace it.
We're on the same team! When we compare and criticize others, we're focused on tearing down, not building up. That misdirected energy prevents us from really being the light and love we're called to be. We're not called to agree on everything, but we can be respectful as we work together. Our growth will never come from tearing down another or from focusing on envy of what they have. Instead, we need to encourage and celebrate one another. (Thank you Cindy Bultema for this great teaching!)
Resilience is an attitude. Resilient leaders don't lead struggle-free lives but instead learn from their experiences and embrace the benefits of their challenges. They exercise humility and find the courage to shine despite life's difficulties. Carol Kent's message on fostering a resilient attitude left me with a valuable reminder that our attitude is a choice. Are we open to the lessons that come in our struggles? Are willing to say 'yes' to small opportunities as a result? And, are we humble in our situations? When life hands us difficult circumstances, we can choose despair or bitterness. Or, we can choose to adopt a resilient attitude and learn, grow, and persevere, becoming stronger than we once were.
There's power in prayer. Hearing the first hand story of Don Piper (90 Minutes in Heaven) brought new meaning to pray without ceasing. Don's car, containing his lifeless body was covered with a tarp while they waited for a coroner to arrive. Multiple first responders confirmed, he had no pulse and passed away. Despite the appearance that it was too late, one pastor crawled into the mangled heap and began to pray. A full 90 minutes after Don's life slipped away and his heart stopped, he began singing praise songs along with the pastor who refused to stop praying. What desperate situation are you facing that you have given up hope on? God is still very much in the miracle business. Pray without ceasing. Pray beyond what seems possible. It's in our most desperate moments that God's brilliance shines brightest.
Of course my days at Speak Up were filled with amazing connections with both new friends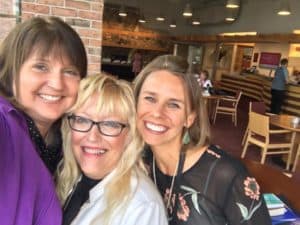 and old. I've learned that time and miles do not matter when it comes to sincere connection with great friends. I look forward to keeping in touch and watching where these dear friends go as a result of being part of this incredible conference.
In many ways, the Speak Up conference is like a shooting star. It left me changed. It left me in awe. Just like a shooting star, I can't help but share the experience. And, I wouldn't want you to miss the next one! Next year's Speak Up Conference is June 28-30, 2018. I'd would love to see you there!
Where you there? What was your favorite part? Let's keep in touch! Follow me on Facebook or Instagram and I'll follow you back.
Or, if you weren't, which one of my takeaways hit home with you the most? I'd love to hear from you and connect online.
To read more about this great conference, check out the other Blog Hop posts about it: