Have you ever watched an old polaroid picture develop?
I know, I'm dating myself… but there's something magical about watching the small black sheet slowly turn to shadows and shapes right before your eyes before turning into a picture or a memory that one day becomes a special treasure.
This past weekend, I experienced something very similar. It was a wonderfully beautiful moment that brought a cherished smile to my heart and tears to my eyes. I couldn't wait to share it with you today. For me, it was anything but a typical weekend. Instead of spending the weekend in snowy New Hampshire, I headed south to Myrtle Beach for a weekend planning retreat with Encouragement Café.
I arrived full of anticipation ready to spend the weekend with an amazing group of ladies. Trust me when I say I have too many stories to share in this one post… so you'll have to wait for the others. Today, I want to share the magic that developed before me.
After a night of staying up late with the other women who arrived on Thursday, I noticed a large canvas painted black with chalkboard paint. The blank canvas intrigued me with it's potential so much so that I took a picture of it.
It truly captivated me. Why, I wasn't sure, but I loved the potential that it represented. I thought how neat it would be to make a smaller version of it and hang it above my writing desk. I could write a word or two, a quote or a scripture on it that inspires me. And, because it would be chalkboard paint I could change it as new verses speak to me.
Later in the weekend, it was fun to watch as Betty Shoopman, a performance artist brought the canvas to life right before our eyes. What started out as two trees and a view of a lake, transformed in to a masterpiece of a woman. I sat in awe of how a blank canvas could transform into such a beautiful work of art.
As I watched, I felt God's whisper – that's what He does with each of us. When we're willing to be a blank canvas He transforms us into His masterpiece. Though some of the lines or shapes she initially drew didn't seem to make sense to me, some of our life's journey or parts of our paths may seem too like they don't make sense either… yet it all becomes part of the resulting treasure which was always part of His divine plan.
With that beautiful image in my heart, I thought I really need to get a canvas, chalkboard paint, and chalk when I get home. But, not sooner did I think that when I was overwhelmed with a swell of emotion.
"No you don't" I thought remembering a small gift I received last spring.
"Hold your hand out," my dad said. "I have something I want to give you."
I stretched my hand out and he dropped a chalk holder with a piece of chalk in it.
"You speak and teach. Maybe one day you can use this," He said.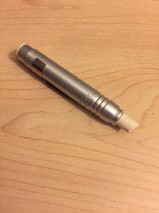 The chalk holder was his for the many years he taught as a professor. One of the last things, if not the last thing he ever gave me, he wanted to pass it along in case I could use it one day. This weekend I plan to head to the craft store to get a canvas and chalkboard paint. I plan to hang it next to the desk where I write. There I'll use my dad's chalk to write my Father's words. I can't think of better inspiration as I look to encourage others and write from my heart.
What do you think of my wonderful chalk holder? Have you ever realized the value of a gift long after you received it? Or, were you touched by my story? I'd love to hear from you!
Have a blessed week!