I didn't expect the sudden flood of dinosaur tears pulling away from my daughter's college on move in day. Up until that moment, I'd been swept into the excitement of watching my first born spread her wings. But no one told me how hard the launch process would be or how long it would last. I fought to contain the emotional flood much of the drive home.
It didn't seem that long ago I was devouring What to Expect When You're Expecting when unexpectedly, I found myself flailing, watching my children spread their wings. Until now, I hadn't heard of a resource to help navigate this challenging season. Fledge, Launching Your Kids Without Losing Your Mind is a hot-off-the presses phenomenal book by my friend, author Brenda Yoder. If you're in or approaching a season of 'lasts' or trying to navigate this crazy, exhausting, exhilarating season of life, Fledge is for you! Today I'm sitting down with Brenda to give you a behind the scenes glimpse of this great new book and tell you how you could win a copy of your own!
Pull up a comfy chair, a cup of coffee or tea, and join me as I chat with Brenda.
As moms, far too often we feel like we're the only ones who struggle. How has the process of writing and releasing Fledge: Launching Your Kids Without Losing Your Mind reinforced that we're not alone?
When I first pitched the idea to the publishers, those who had gone through this stage already affirmed the need for such a resource. Before I wrote Fledge, I wrote a blogpost called "I Have No Friends and Other Mom Grief" and was overwhelmed at the number of women who identified with this common experience of loss. Since writing Fledge, I've heard from woman after woman who connect with the idea of the book without even reading it. Early reviewers have shared how meaningful the content has been. I truly wrote the book so other moms wouldn't feel so weird, vulnerable, and alone in this season, because it's how I felt. I honestly need other moms to commiserate with!
What's one piece of advice you'd give to a mom who's ready to start the fledging process or is in the middle of it? 
Give yourself grace. Give yourself grace when you feel like you're losing everything you thought you knew about life. Give yourself grace when you are emotional at the "lasts" you experience with each child. Give yourself grace when you don't feel like rejoicing or being stoic at the milestones which should be celebrated. Give yourself grace when your husband doesn't understand that you miss your kids. Give yourself grace when your kids call you weird because you cry. Give yourself grace when you look in the mirror and see your mom. Give yourself grace when your birthday numbers say you're "old." In all your experiences as a midlife, fledging mom, give yourself grace. (There's a chapter just on this).
There may be a mom or dad who realize they made a lot of mistakes releasing their kids. What can they do after the fact if they feel like they did it all wrong?
Thankfully, Christian parents have hope that God can undo the our mistakes in His time. I know this from personal experience. Joel 2 promises God will redeem the years the locusts have eaten; but the redemption comes after confession and repentance. While parents can't undo past mistakes, we can confess mistakes or sins against our children. We can ask for forgiveness from those we've offended. We can change behavior that needs to be changed and accept responsibility for natural consequences. This also includes holding older teens, young adult, and adult children responsible for their own behavior and not taking on parent shame or blame for another's unhealthy or harmful behavior. It's humbling when you realize the effect your mistakes or sins have had on your child, but it doesn't excuse their unhealthy or unsafe choices as an adult. Like other regrets, deal with what needs to be dealt with, give it to God, and move forward. We have to let our adult children walk their own journey and come around on their own time.
One of the things I love most about Fledge is how vulnerably you share your journey. How have you seen God use your transparency?
I started writing my blog, Life Beyond the Picket Fence, with vulnerability and transparency because it was what I needed at the time as a struggling mom. I needed people to be real with me. That transparency and vulnerability is what connected and has continued to connect with others when I speak and or write.  When I receive emails, cards, or comments from others saying how they know they're not alone, and that my words express how they feel, I know I'm doing what I should be doing. When I was a struggling parent and felt alone, I looked around and only saw people whose lives were perfect. I needed someone to be real with me who also had a strong faith amid life's struggles. I've made a commitment to be the type of woman I needed when I felt alone.
I 've already joined your online community you've created to help connect and encourage parents. Can you share a bit the new group and let my readers know how to join?
I'll be hosting a Fledge Parenting Forum as a closed Facebook group for topics covered in Fledge along with all topics related to releasing your children with biblical principles and healthy behavior along the parenting spectrum. Releasing begins with young children and continues even as your children are adults. I'll do a topical video each week and parents will be able to enter into the discussion. It's not meant to answer specific parenting questions per se or to be a site for individual coaching or counseling, but will be an educational and coaching site for topics relating to Fledge. Women can connect through my Facebook page. It's now open!.
For more on letting go and everything else in the fledging stage of parenting,  get Fledge: Launching Your Kids Without Losing Your Mind . It's available online and at major retailers. Join me on Facebook for our upcoming Fledge Parenting Forum, and on Instagram, Twitter, and at the Life Beyond the Picket Fence blog at brendayoder.com
How to win your copy of Fledge: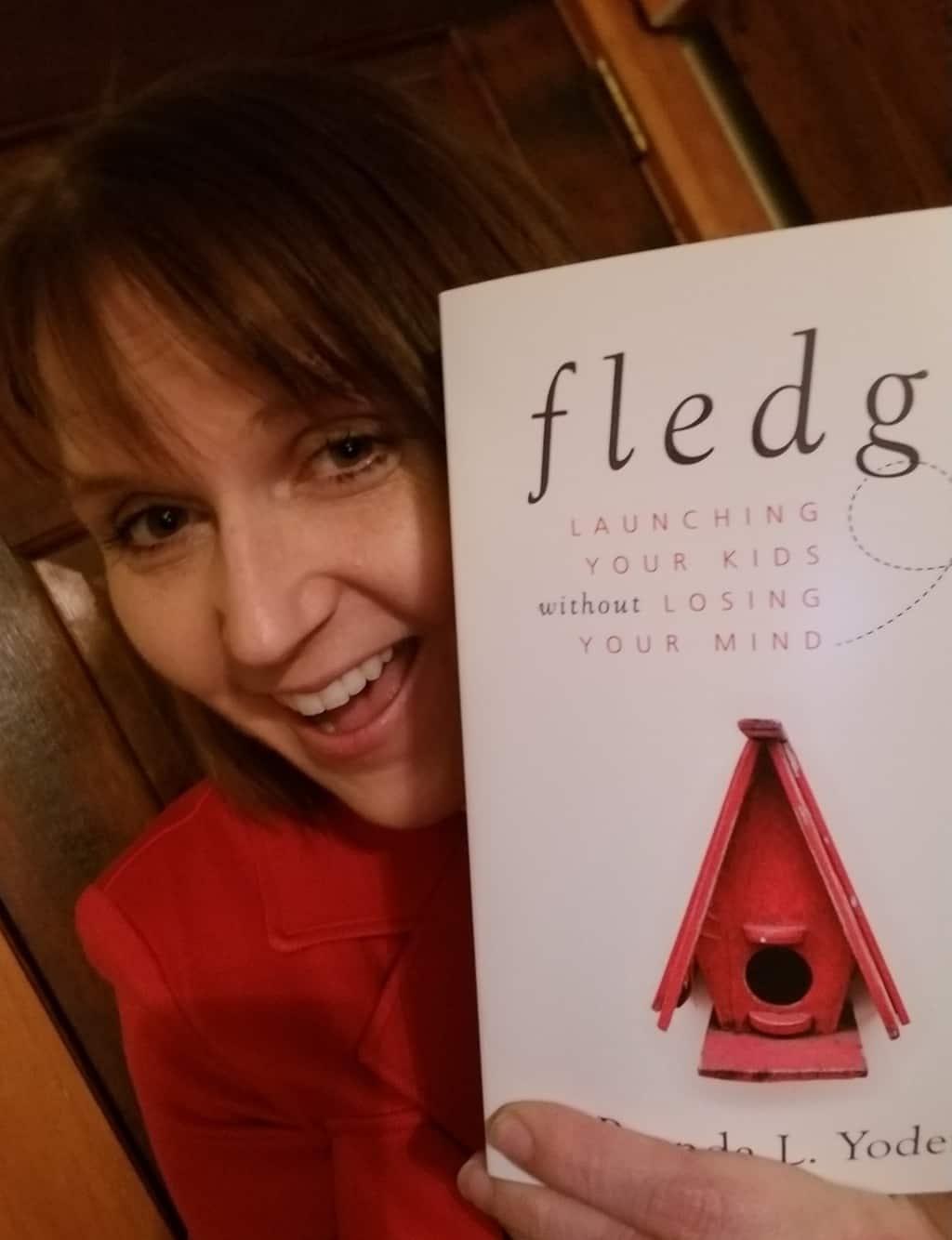 Ok friends, I'm excited to be giving away a copy of Brenda's new book. I know you're going to love her vulnerability and transparency.
You'll appreciate that she's willing to share the bumps and lessons, along with real wisdom for this season of parenting. I will have a Facebook live drawing to announce the winner on Tuesday, March 13th at 7pm ET. How can you enter? Get an additional entry for each:
Comment on this blog post and let me know why you'd love to win Fledge.
Share this post on social media. (Be sure to tag me, or message me the link to your post.)
Join me on Brenda's Facebook (Message me so that I can count your entry.)
Signup for my email list and get 5 bonus entries! (Already signed up, encourage a friend to sign up and let me know. You'll both get the bonus entries!)
Be encouraged friends. You can launch your kids without losing your mind! As always, I love hearing from you, click and join the conversation.