(photo credit/copyright:

123RF.com

)
If I close my eyes, I can still smell the sawdust and hear the hum of the saw in my dad's workshop. Growing up, I used to watch him build and create beautiful woodwork. Too young to use the big equipment, I often pulled wood scraps from the sawdust, added my imagination, a few nails or glue and made my own projects. Although I had fun spending time with my dad and building them, they were a distant memory until just last week.
While visiting my parents, they gave me one of my small wooden creations. My dad has kept it in his office all these years. My heart swelled thinking of the joy I had making it and then even more when I realized how much he's treasured it all these years. The piece not only reflects my relationship with my dad, but also provides three great reminders of our Heavenly Father.
What I created was not perfect, but my dad loved it. – One piece is crooked, the nails aren't symmetrical. And, there are chips in the wood. But my dad loves it just the way it is. God loves us just the way we are too. He knows we're flawed yet still loves us. He knew we'd make mistakes so He made a way to be reconciled through Christ. We don't have to be perfect!
Even if no one else sees the value in the little wooden object, my dad did. – Someone might look at the wooden figurine and think it's worthless when indeed, it's priceless. People may not always see our value either. They may not understand who we are or appreciate us. Regardless of what they think, our Father will always love us with an amazing abiding love. Even when we doubt our own worth, He never does.
Everything I needed to make my wooden treasure, all the resources and skills, my dad provided me. – Everything we need to complete God's purpose for us, He provides. He qualifies the called. He has a plan for each one of us and He will give us all the resources and develop all of the skills that we need to complete His purpose. We just need to use what He gives us for His glory.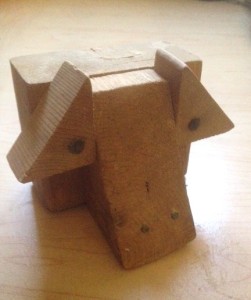 The wooden figurine now sits on my desk, a reminder of my love for my dad, my Father and the love that I have in turn received. I'm forever blessed by a treasure born from imagination and scraps from a sawdust pile.
Do you have a similar treasure? I'd love to hear from you. Join the conversation by clicking on the comment bubble above.