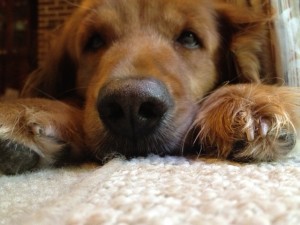 You could say I've been busy re-booting my writing and my blog. Over the past several weeks I've been speaking at and/or attending a variety of conferences. During that time I've really been seeking God's direction for my writing – not just for this blog, but for my next book project. I'm super excited for the vision God's given me and look forward to sharing it with you. I'll be back to blogging weekly now.
Have you ever noticed how God can use our everyday situations, the common place things we often over look to teach us His lessons? I had one just a few days ago and thought I'd share it…
Arriving home after a busy day at work, I called for my dog Hailey, who I knew had been home alone. After she bounded down the stairs barely touching half of them, I sat down to fuss over her for a bit. Sitting there, I was reminded of a few valuable lessons.
3 Lessons I learned from my dog:
1. When I called her, she came running. Nothing she was, or wasn't doing took a higher priority.
Isn't that how we should seek to be with God? No matter what we are doing, no matter what has our attention that God's voice should trump all – be the priority. When He nudges, or whispers, or perhaps convicts, that we'd run with all our energy to Him.
But seek first the kingdom of God and his righteousness, and all these things will be added to you. Matthew 6:33 ESV
2. As we sat together, Hailey leaned into me with all of her – so much so that if she had tried to move without me, she would have fallen.
Isn't that how we are… when we try to "do life" on our own, we stumble.  Instead, if we lean into Him, really press into Him as we take our steps, not only can we move forward, but we do so with His strength and support.
Trust in the Lord with all your heart and lean not on your own understanding; in all your ways submit to him, and he will make your paths straight. Prov 3:5 NIV
3. The longer Hailey sat with me, spent time with me, the more she shed. My steady hand upon her pulled away the heaviness of her "old fur". 
The longer we slow ourselves to sit with Jesus, the lighter we become. He lifts our load. In His presence, we can shed our fears, our worries, and the weight of the world that we try to carry far too often. In exchange, He gives us strength and peace for our weary souls.
"Come to me, all of you who are tired from carrying heavy loads, and I will give you rest." Matt 11:28 GNT
____________
Where are you today? Have you been ignoring God's whisper into your life? Do you need to come running to Him?
 Or, do you need to press into Him so that you don't stumble? Perhaps your load is heavy, and you need to shed a little?
 Which of these three lessons hits home for you? I'd love to hear from you!