I'm a Christian woman with an exciting life's journey.  Through the challenges of my life, I've developed strength, wisdom, and a deep faith that inspires others. I enjoy writing and speaking to audiences of all ages, sharing my story of resilience and overcoming life's challenges. I love finding inspiring wisdom in every day life.
A new expanded edition of my memoir A Search for Purple Cows is now available from Guidepost Books. For those who know my story, it was a much anticipated release.  For those who haven't yet heard my remarkable journey, it is one that will both inspire and stir your spirit. It will challenge you to shift your life's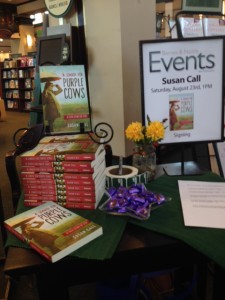 focus, to seek forgiveness, and to find hope – no matter how difficult life has been or is now. Named as the grand prize winner of Inspiring Voices Book Publishing Contest, A Search for Purple Cows is a story of betrayal, abuse, finding faith, the power of forgiveness, and the joy of redemption.
I hold a Masters in Science Degree in Marriage and Family Therapy from Eastern Nazarene College in Massachusetts, and a Bachelor of Arts Degree in Computer Science from Susquehanna University in Pennsylvania. I have studied in Sweden at Vilundaskolan and Uppsala University and speak conversational Swedish.
When I'm not sharing my story, I enjoy pursuing my hobby of photography. It is a pastime that enables me to slow down and appreciate the people and places that are part of my journey. I'm a very proud mother of my two children, wife and step-mother.